Como quemar CD's de Musica, Data ó Imagenes .iso en Linux
Hay personas que cuando empiezan en el mundo de Linux quieren tener la habilidad de poder quemar sus CD's ya sean de Música o Imágenes de Software (.iso). Idependientemente queramos quemarals en un CD o DVD queremos una aplicación que no haga el trabajo bien y rápido.
La aplicación para este trabajo que recomiendo es K3B (http://www.k3b.org) por sus siglas en ingles significa (KDE, burn, baby, burn) por las 3 "b's" que tiene por eso le llaman K3B, aunque dice que es hecho para el modo gráfico de KDE también se puede usar en Gnome así que no pienses que no te va a funcionar en Ubuntu. Este es el Logo de K3B.

Ahora vamos a los pasos para instalarlo y usarlo. Si estamos en Ubuntu podemos usar el "Synaptic Package Manager" ó usando el Terminal (Consola) (EL cual es mi favorito)
Si estamos en "Synaptic" estos son los pasos.
1. Vamos a "System -> Administration -> Synaptic Package Manager"
2. Luego cuando abra "Synaptic" le damos un click al "Search" y escribimos "K3B"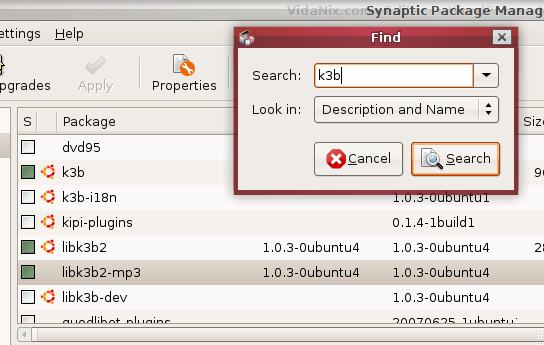 3. Luego seleccionamos los siguientes 3 Paquetes: "k3b, libk3b2-mp3, libk3b2" le damos botón derecho "Mark for Instalation".
4. Una vez seleccionado y marcado para instalar le damos al boton arriba que dice "Apply", luego nos pregunta la confirmación de lo que vamos a instalar seleccionamos "Apply".
5. Una vez lo baje e instale automatico vamos a el menú "Applications -> Sound and Video -> K3b" .
Terminal
Para instalarlo por terminal es mas fácil por eso es mi favorita, bueno aquí están los pasos.
1. Abres el Terminal escribes "sudo apt-get install k3b libk3b2 libk3b2-mp3"
2. Listo ya no hay mas pasos ahora solo ve a "Applications -> Sound and Video -> K3b" y correrlo.
Corriendo K3B
Una vez instalado cuando corras el K3b vas a caer a la siguiente pantalla que es la principal.

(Presiona encima de el para Agrandar)
En mi proximo articulo explicare como utilizarlo.
Ultimos 10 Temas Por Ernesto