Website de la Semana: OtherInbox – Protégete del spam y sobrecarga de emails
OtherInbox pretende ser la cura para la sobrecarga de email. Lo que hace, en vez de darte una dirección de email es permitirte crear múltiples direcciones de tu propio subdominio, del tipo miusuario.otherinbox.com. Estas direcciones se pueden utilizar para registrarte allí donde quieras. Este servicio soporta los navegadores Firefox, Chrome, Safari e Internet Explorer.El modo de uso es sencillo. Digamos que te vas a registrar en amazon.com y no quieres dar tu email personal. En vez de eso te registras con la dirección [email protected].
Todos los mensajes de este tipo de direcciones de  email irán a su propia bandeja de entrada en OtherInbox, donde puedes leerlos, archivarlos, responder, lo que quieras, y con una interfaz muy agradable, al estilo de Outlook. En VidaNix llevamos cerca de 1 mes con una cuenta que conseguimos probando el email hemos encontrado un servicio muy bueno y eficiente, lo que me encanta es la panera de no tener que proveer tu email personal y poder usar este para todo lo que no es importante. Una nueva característica que le añadieron es que puedes tener varios subdominios digamos que tu nick es "Destroyer" y tu pagina se llama "VidaNix" ahora puedes tener dos subdominios apartes ejemplo: destroyer.otherinbox.com y vidanix.otherinbox.com en la misma cuenta lo que crea algo mas facil y personalizado.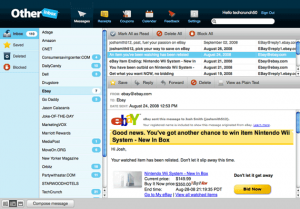 Ahora mismo OtherInbox esta en Beta lo que significa que esta cerrado para el publico en general pero si deseas te podemos enviar una invitación para que seas un usuario beta solo dejanos un comentario en este Articulo y te enviaremos la invitación.
Actualización
No lo van a creer OtherInbox.com vio nuestro Articulo y se comunicaron conmigo van a regalar 25 Cuentas a los lectores de VidaNix que se registren con nuestro codigo aquí les dejo el Link!
http://beta.otherinbox.com/signup/vidanix
We will like to thank OtherInbox Team, for this invitations!!! We really apreciate it. I have to say I used to do this with Gmail I created several account for difference things and "Fowarded" all my emails (Other Gmail accounts) to my main email, now I use OtherInbox!!!
Ultimos 10 Temas Por Ernesto