Elimina el Consumo de RAM cuando vas a correr un Juego en tu PC con GameBooster.
Hay personas que les encanta los Vídeo Juegos para su PC, pero solo tienen un pequeño problemas, no tienen el suficiente RAM disponible una vez que su maquina sube y los mismos le corren mas lentos. El programa que voy a hablar hoy se llama "Game Booster" es un programa gratuito, compatible con Windows XP(32-bit y 64-bit), Vista y Windows 7, mediante el cual se puede mejorar el rendimiento del sistema, liberando recursos innecesarios e incluso desfragmentando la memoria RAM para  poder exprimir al máximo nuestros juegos.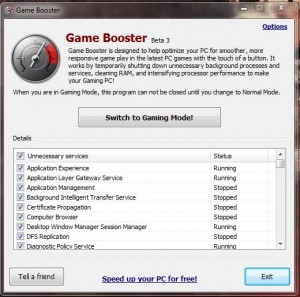 El programa es bien fácil de usar, solo tiene una opción la cual se llama "Switch to Gaming Mode" una vez aprietes el botón el mismo va a comenzar a para todos los servicios que estén seleccionados en la parte de abajo, si no quisieras que detuviera alguno solo le quitas la selección y listo. En mi caso cuando lo corrí me elimino "256MB de Ram" quizás no lo veas como tanto pero para una persona que quizás tiene "1GB de Ram" puede notar la diferencia a la hora de jugar, ademas la eliminación de RAM varia quizás a alguien le elimina mas aun. Una vez que termine de jugar y quieres volver a activar los juegos para atas solo seleccionas la opción que dice "Switch to Normal Mode" y listo todo vuelve a correr a la normalidad.
Si quieres probar el mismo aqui te dejo el link para que lo uses:
http://vidanix.com/utils/GameBooster/gamebooster.exe
[Otros Articulos para acelerar tu Maquina]
Si lo que buscas es que tu maquina corra mas rápido te recomiendo estos dos artículos que escribí para Windows XP lee este "Haz que tu Windows XP sea mas Rapido con este truco" y si tienes "Windows Vista" lee  Remueve Componentes Innecesarios en Windows Vista y Acelera tu Maquina.
Ultimos 10 Temas Por Ernesto